The Neftegaz team and the Aluminium Association meet to discuss preparations for Neftegaz 2022
09 / 08 / 2021
This week, the Neftegaz team had a meeting with representatives of the Aluminium Association as part of preparations for the exhibition in 2022. At the meeting, the Aluminium Association was presented with a commemorative diploma for the Association's active participation and partnership in organising the Neftegaz conference programme.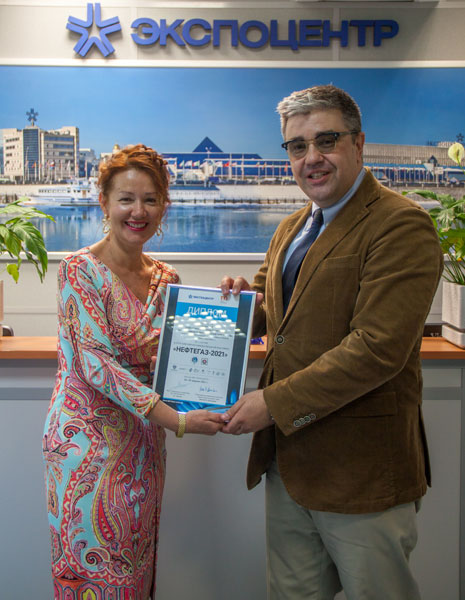 We would like to remind you that aluminium solutions for the oil and gas industry were on display at the Association's stand at Neftegaz 2021: drilling and tubing pipes, KRYOSYL cable, TEVOKS power cable, ELKAFLEX AsKGN-HL, AsKGM-HL, ELKAFLEX AsKGET-HL 6000 and ELKAOIL AKPpBP-120 cables, band anodes, devices for deployment of temporary roads of Moscabelmet Group, Bogoslovsky Cable Plant, RUSAL, Arconic Russia, and Real-Storm.
CEO of Moscabelmet and Head of the Power Industry Sector of the Aluminium Association Pavel Moryakov moderated some events of the conference programme. On the first day of Neftegaz 2021 he moderated three events of the Session on Power and Control Conductors in Oil and Gas Production.
The first day of the exhibition also saw the Aluminium Association holding a workshop on aluminium solutions for the oil and gas industry. Its participants were representatives of companies and organisations that are members of the Association. Experts of KamKabel, RUSAL, the Institute of Light Materials and Technologies (ILM&T), the Moscable Plant, and Real-Storm enterprises talked about new aluminium solutions and solutions, which had already found their way into the market.
The Aluminium Association is planning to participate in Neftegaz, which once again will demonstrate the latest aluminium solutions and innovations for the oil and gas industry. The Association is also planning to participate in an extensive conference programme of Neftegaz.
---