Exhibitors feedback
Kirill Molodtsov, Deputy Minister of Energy of Russia:
"Out of all oil and gas trade shows running in Russia, Neftegaz is the main one. It brings together almost everybody. Things exhibited occasionally at other shows can be seen here in full.

I am interested in technologies which Russian companies offer other Russian companies as part of the import substitution program. We are interested in about 500 main objects, 12 industry groups, programs connected with catalysts, drilling equipment. There is still space to improvement, especially in the field of digital support in the oil and gas industry. It is a big work which will take several years."
---
Genady Shmal, President of the Union of Oil and Gas Producers of Russia
"Today, the trade shows and forum, which we are managing, are the only way to convey new information to professionals in the oil and gas industry. Not to mention the economic side of such shows. They are the place where contracts for equipment, works or services, etc., are signed. But the most important thing is what people can see here. That is why we have to support trade shows despite all economic crises and problems which all companies have from time to time. We need trade shows. We have to search for new methods and new technologies to make the cost of our oil barrel lower that even in the Middle East. You can see such things only at a trade show."
---
Mikhail Margelov, Vice President, Transneft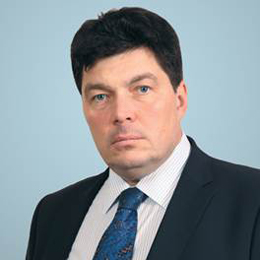 "Transneft is a regular participant in the Neftegaz International Exhibition for Equipment and Technologies for the Oil and Gas Industry which brings together leaders of this country's fuel and energy sector.

This year Expocentre has offered our company a chance to demonstrate the latest equipment and innovative developments of the Transneft system for improvement of quality of oil and oil products transportation and reliable pipeline operation.

That is why I would like to thank the whole team of Neftegaz 2018 for their help and assistance which allowed us to arrange this event at the top level."
---
Viktor Fadeev, Sales Director Russian & CIS, KROHNE Group:
"KROHNE is a German company which regularly takes part in Neftegaz. Every year we aspire to show new products to our target audience. At the same time we show that KROHNE keeps growing. Our stand is getting bigger showing our presence in the Russian market. We are also trying to develop more interactive exhibits and take into account the current demands of our audience. That is why this year we have interactive maps which show where the KROHNE equipment is used in the oil and gas industry. All of these build our image as a successful company in the Russian market.

The trade show is first and foremost a networking platform. Development of our company relies on human connection and contacts. Here we meet those with whom we worked together last year. Now we can once again discuss their needs and requirements, joint success, and possible future contracts. We realize that we can show a lot of wonderful ads about our products but nothing can substitute face to face meetings at a trade show. Here we have everything to show our equipment and receive many visitors at our stand. There are also no limitations when connecting the most fashionable and high-end means of visual communications. Now our stand is equipped with an A/C system, multimedia displays, and an interactive water installation.

This trade show is great because our stand and stands of our partners are some kind of beacons that attract people we are looking for."
---
Milana Khochukaeva, Deputy Director for Marketing and Advertising, Uralmash Oil and Gas Equipment Holding

"Uralmash Oil and Gas Equipment Holding has been taking part in Neftegaz for the last eight years. Every year the company's stand gets bigger, better equipped and also offers more and more information.

Neftegaz is a great opportunity for professionals of the oil and gas industry to learn more about equipment and discuss promising contracts, and for equipment manufacturers to show their new products and get feedback from their customers.

The trade show is well managed and meets all international standards."
---
Danila Khrychev, Head of Compressor Sales and LNG Technologies, Jereh Global

"Jereh Global has been taking part in Neftegaz for over 10 years. For us Neftegaz is a great opportunity to promote the company business and find new customers and partners.
I think that we have managed to achieve our objectives. If the total number of our meetings at the stand is 100%, then I can safely say that in percentage terms 50% falls on meetings with existing partners, and exactly 50% on meetings with new customers that we have met at Neftegaz.

The impressions of the trade fair are only positive. Our stand has been attended by a delegation from Rosneft Oil Company. We have managed to conduct effective business negotiations. Besides, we had a meeting with representatives of Lukoil.

I, for one, am in charge of the gas line. Every day about 15 new contacts were in my hands to develop the business. In my opinion, it is a very good result and in the near future, this will help us create a sales funnel for the department.

In follow-up of Neftegaz we had talks with the company management. All team members were satisfied with the standards of the event organisation. Next year we plan to participate in Neftegaz with a stand."
---
Weng Fuhu, Sales Manager, China First Heavy Industries

"Our company took part in Neftegaz with a stand for the first time. The purpose of our participation is to broaden the market, create a sales funnel in Russia and, of course, enlarge our footprint in the Russian market.

In my opinion, participation in Neftegaz for our company has been effective and successful. We have managed to find useful contacts and conduct a series of meetings with existing clients.
Most likely, next year we will take part in Neftegaz again."
---
Li Jinxu, Head of KERUI Representative Office in Russia

"KERUI is a leading producer of oilfield equipment, supplier of oil services and solutions as well as General Contractor (EPC) in the oil and gas sector. The main objective of our participation in the trade fair is to attract new customers and conduct meetings with existing partners and clients.

In the context of the trade fair we told visitors about our achievements over the past year, presented equipment, had a series of important meetings. I think that participation in the trade fair will help us create a sales funnel.

Next year we plan to participate in Neftegaz 2019."
---
Alexey Prokopyev, Deputy General Director for Development, Centrax Gas Turbines Rus

"For Centrax participation in Neftegaz 2018 is a great opportunity to tell colleagues and partners of our company products and show how fast we are growing and looking forward.

Overall, we are pleased with the trade fair results."
---
Su Yang, Leading Sales Manager, RG PETRO-MACHINERY GROUP CO, LTD

"Our company takes part in Neftegaz with a stand every year. The main purpose of participation is to meet new clients and conduct negotiations with existing customers.

We have presented our steam installations to the trade show visitors. We are pleased with the results."