24 / 04 / 2017
National Oil & Gas Week 2017 closed in Moscow
The second day of the National Oil & Gas Forum, which took place on April, 18-19 at Expocentre Fairgrounds in Moscow, opened with discussion in the round table format. The Forum was devoted to technological upgrade and innovation capacity of the Russian oil and gas sector.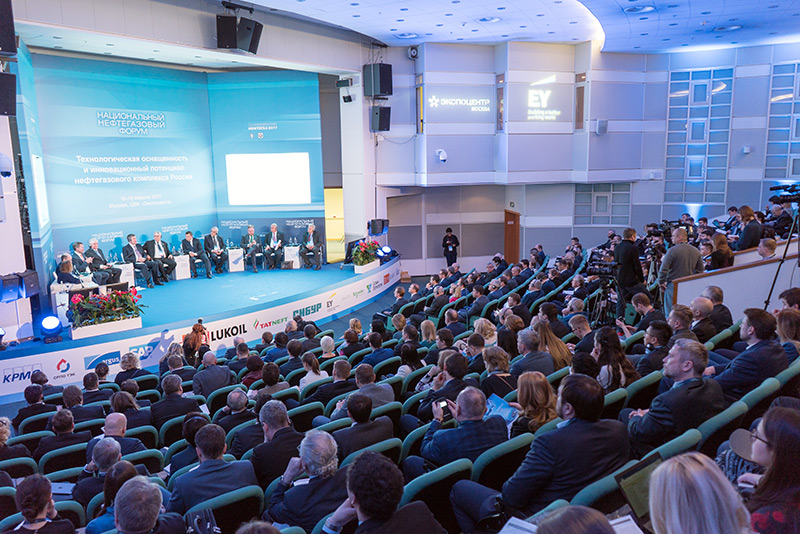 The round table "Development of Hard-to-Recover Reserves: Economic and Technological Aspects" was moderated by Director of Consulting at HIS Russia Maxim Nechaev. The main discussion topics were the current fiscal policy, problems and methods of stimulating companies to develop hard-to-recover reserves (HTR reserves), a draft bill on the tax on added income in the oil sector, international practices and history of the shale revolution, successful cases of Russian companies.
The report of General Director of the State Reserves Committee Igor Shpurov was in the focus of the round table participants. He stated that benefits for oil and gas companies were necessary to develop technologies rather than reserves. The benefits should be targeted.
According to Igor Shpurov, nowadays there are no strict criteria for referring reserves to the hard-to-recover category. As time goes, the reserves which have been considered as HTR pass into the conventional category and can be developed using common techniques. The HTR reserves include high-viscosity oil reserves and low-permeability reservoirs, under-gas cap zones and oil rims, depleted reservoirs. Not all hard-to-recover reserves require special technology however all of them are considered HTR reserves, and sometimes companies reluctantly develop them. According to the head of the State Reserves Committee, there are no problems in the post-mining areas. Low-permeability reservoirs require sophisticated technologies but such technologies exist. As for under-gas cap zones and oil rims, here are problems in both identification of their location and availability of technologies for their development. So, development of HTR reserves is only a matter of time which is worth spending to good use, in particular for development of technologies or for working out the conditions useful for difficult oil extraction.
Besides, in the opinion of Igor Shpurov, unconventional reserves need a new independent science based on rock physics and geochemistry, "we won't seriously get down to the Bazhenov shale and domanik until we realize that we should forget the oil-field geology which we studied at school".
President of the Union of Oil and Gas Producers of Russia Genadiy Shmal compared the existing tax regulations in Russia to a slipknot on the neck of oil companies. As for development of HTR reserves, he said that the main objective was search for new efficient technologies.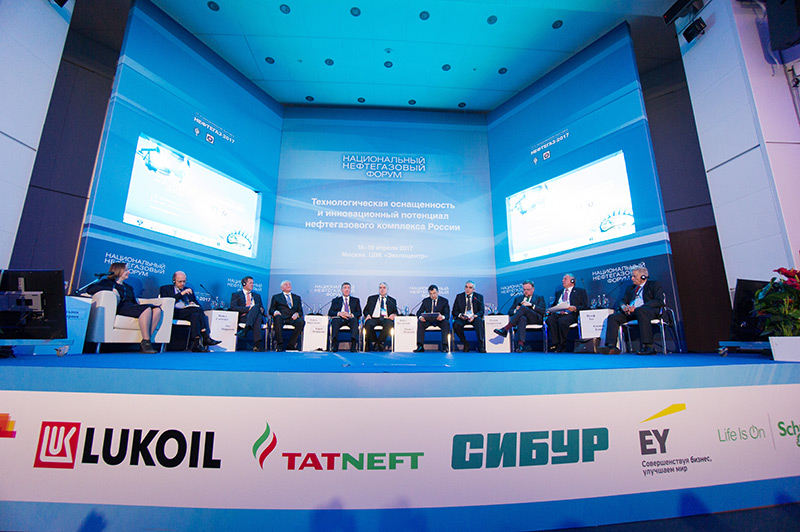 Deputy Director of Oil and Gas Production and Transportation Department of the Russian Ministry of Energy Andrey Tereshok stated that the current incentives scheme (MRT) showed its efficiency and allowed to form a new gas province resulting in increase in oil production and budget revenues. However, he pointed out that in regard to the development of HTR reserves, the stimulation measures were probably not enough.
Deputy General Director of VNIIZarubezh-Geologia Vladimir Vysotsky submitted a comprehensive report on reserves in the USA and Canada. He stressed that developments of new technologies in Russia had to be carried out by research centres.
Ekaterina Grushevenko (the Energy Center of the Skolkovo Business School) pointed out that the shale revolution in Russia was not only about new technology. As the US experience shows there are three other important aspects: cheap credits, strong competition among extracting companies and an opportunity to hedge risks of producers.
Head of the Energy Markets Sector of the Energy and Finances Institute Nikolay Ivanov shared forecasts and plans of oil extraction in the USA. He said that major companies had slept through the shale revolution. But ExxonMobil, for instance, bought a Texas company in 2017 and planned 30% investments in drilling technologies for HTR reserves.
Ekaterina Kozinchenko, a partner with A.T. Kearney and head of the firm's Energy & Process Industries Practice in Russia and the Commonwealth of Independent States offered new operating models aimed at development of HTR reserves to oil companies and described problems of majors. She mentioned that large companies had a matrix organization structure where activities prevail. As a result, the decision-making process is slow. Small companies have a line organizational structure and decisions are made quickly. It gave the upper hand to small companies in carrying out the shale revolution.
Other participants of the round table included Ildar Akhmadeishin, RITEK; Aleksey Olyunin, Head of the Geology and Development Management of the Bazhen Project, Gazprom Neft; Marat Amerkhanov, Head of the Superviscous Oil Extraction Management, Tatneft; Anton Rubtsov, Business Development Director, VYGON Consulting; Denis Borisov, Director of the Moscow Oil and Gas Center EY; Aleksey Chemerisin, Deputy Head of the Skoltech Center for Hydrocarbon Recovery; and Andrey Lepikhin, Business Development Director in Oil and Gas Production, Schneider Electric Systems.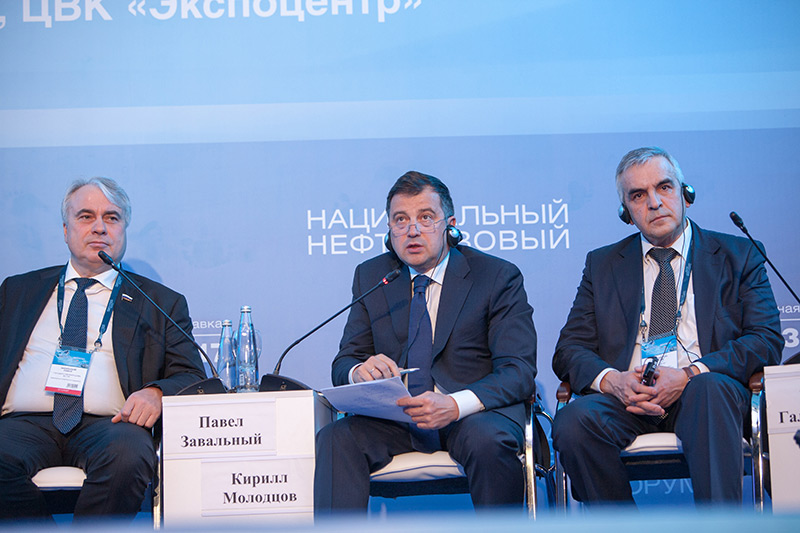 The concurrent session
was the round table on SMART technology in the oil and gas industry: practical aspects of technology transfer, import independence and security requirements. The event was moderated by Vice President of the Russian Chamber of Commerce and Industry Dmitry Kurochkin. He stressed that the oil and gas industry was one of the most advanced sectors as it is open to try new scientific and technical developments including SMART technologies. Due to effective management of these processes, as the experience of foreign countries shows, the GDP growth can increase up to 0.5%. Such GDP growth can be reached only in oil extraction. According to Dmitry Kurochkin, this potential effect from comprehensive widespread solutions of defined problems is expected and can be reached in our country in the coming years.
Vice President of Schneider Electric and Chairman of the IBC Information and Communications Working Committee Clemens Blum noted that the issue of information infrastructure security was important for many companies throughout the world. Countries of the European Union, South-East Asia and Latin America have approved relevant laws and regulations. Internet companies carry out tests of digital platforms which will increase efficiency of security and data transmission. It is not convenient to keep digital data in different standards. It also compromises the data safety and increased expenses for it. According to Clemens Blum, the common information exchange standard should be established, which can ensure safe operation and protection of digital data.
Chairman of the Subcommittee on Information and Industrial Safety and Security of the Committee on Safety and Security of Entrepreneurship of the Russian Chamber of Commerce and Industry Andrey Kostogryzov talked about different approaches to risks prediction and security measures. In particular, application of SMART technologies has to become an integral part of integrated safety and security. It is essential to actively introduce system engineering, life cycle processes of software and a number of other standards of the industrial safety and security.
Deputy General Director of InfoTecs Dmitry Gusev informed the participants about changes in the Russian legislation in the sphere of digital sovereignty. He also reminded that in December of 2016 a new federal law on security of digital data and legislatively preventing cyberattacks was adopted. According to Mr. Gusev, this law is well-timed and will effectively protect the crucial information structure of this country.
Discussing the Russian draft law on security of the crucial information structure, partner of the Moscow office of Baker & McKenzie - CIS Limited Edward Bekeschenko noted that the law was first of all directed at protection against cyber threats and cyberattacks. It calls for cooperation between the government and companies, restricted access to large data volumes and exchange of technologies in the sphere of protection of engineering data.
Executive Director of Yàndex Data Factory Aleksandr Khaitin talked about the machine learning technology and artificial intelligence which would be used in the oil and gas industry. Easy solutions are exhausted in many industry sectors. All forecasting and optimization tasks have been already handled, and additional optimization requires substantial expenses. In this situation machine learning and big analytics allow deriving additional benefits from the existing assets with minimum or no capital costs. We need to saturate business operations with AI.
BCG Managing Partner Irina Gaida devoted her report to "digital deposits" and cyber security. "Digital deposits" are interconnection of 11 areas, among which are bid data and analytics, cloud computing, adaptive manufacturing, etc. The oil and gas industry is more likely to be cyber attacked than other industries. To reduce threats, the right measures have to be taken by both individual companies and by the industry as a whole.
Deputy Director of System Engineering and IT of the ASE Group (Rosatom) Pavel Bruk talked about life cycle process management of complex engineering facilities powered by Multi-D. This technology is developed specifically for nuclear power facilities. It allows running the project and managing the life cycle of a facility from the moment of decision making about its design.
Strategic International Projects Vice President at Schneider Electric Aina Kenandykova noted that the digital sovereignty was important for Russian business and very important for carrying out international projects. One more important issue is compliance with license agreements when suing foreign software in Russia.
After the lunch break
the forum continued with the conference "Science – Technologies – Business: Main Steps of Innovative Technology Transfer in The Current Fuel and Energy Industry", workshop "Procurement Planning in Oil and Gas Companies", round tables "Development of Private Entrepreneurship in The Russian Oil and Gas Industry" and "Clusters, Technology Parks and Engineering Centres as Drivers of Development of Petrochemical and Oil Refining Industries".
The forum was co-located with the 17th edition of the Neftegaz International Exhibition. Its participants included representatives of various Russian ministries and departments, Russian and foreign fuel and energy companies, analytical agencies, industry associations, research communities, and leading mass media outlets.

print version