16 / 03 / 2016
Russian Ministry of Energy supports Neftegaz 2017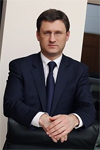 Russian Minister of Energy Alexander Novak has sent a letter to President of the Russian Chamber of Commerce and Industry Sergey Katyrin about the official support of the 17th edition of Neftegaz by the Ministry of Energy.

The minister calls the Neftegaz international exhibition "a key industry event – a booster of innovation-driven development of this country's fuel and energy sector. The event becomes even more prominent now that Russia's sustainable economic growth largely depends on how the oil and gas industry copes with new challenges it faces."

"The show usually attracts major domestic industry stakeholders: oil and gas companies, service providers, equipment manufacturers. Numerous networking platforms offer plenty of opportunities to share knowledge, cement partnerships and view the latest technologies," says Mr. Novak.

Neftegaz is organized by Expocentre ZAO (Russia) and Messe Dusseldorf GmbH (Germany).

Neftegaz 2017 will be held in Moscow at Expocentre Fairgrounds on 17-20 April 2017.

print version