11 / 12 / 2015
Expocentre Fairgrounds hosts a meeting on diversification of Russia's fuel and energy sector in conditions of low oil prices
Moscow, 11 December – Expocentre Fairgrounds hosted a meeting of experts of the oil and gas industry, and business and industry media representatives in the run-up to the 3rd National Oil and Gas Congress and the 16th Neftegaz International Exhibition. The covered topics were the diversification of Russia's fuel and energy sector in conditions of low oil prices, new economic models, tax policy and technological potential of the industry.

Meeting participants included Russian Deputy Minister of Energy Kirill Molodtsov, Director of the Russian National Energy Security Fund Konstantin Simonov, Vice President of the Skolkovo Fund Nikolay Grachev, General Director of AssoNeft Elena Korzun, various government representatives, entrepreneurs and industry experts.

General Director of Expocentre ZAO Sergey Bednov informed the meeting that for the first time these two of Russia's major oil and gas events will be co-located at Expocentre Fairgrounds on 18-21 April 2016. Neftegaz was first held in 1978 to become the leading and most important show for the Russian oil and gas industry. Its exhibitors include manufacturers and distributors of oil and gas equipment, petroleum corporations and holdings, oil and gas producers, oil and gas processing, oilfield services, exploration, drilling, construction companies, and other players of the fuel and energy sector.

Throughout the meeting its participants stressed the importance of the fact that the National Oil and Gas Forum would take place alongside Neftegaz.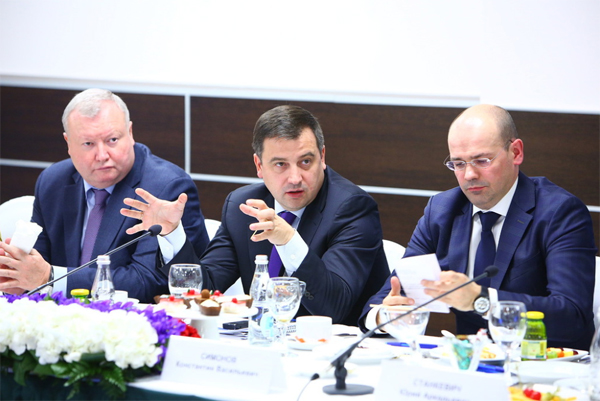 "The co-location of Neftegaz and the National Oil and Gas Forum is a part of our global strategy in its own way, said Kirill Molodtsov. The decision to hold these major events together and to make it a scheduled event in the future was a critical one."

The participants discussed many issues connected with the state and prospects of the Russian fuel and energy sectors as well as other issues, which will be raised again in April of the next year during Neftegaz.

Deputy General Director of the Institute of Energy Strategy Aleksey Belogoriev remarked, "It's evident that the forum and exhibition held together will create the first major event that can serve as a platform to not only discuss aims and mechanisms of the state policy but also what Russian manufacturers can do for our oil and gas companies." He stressed that the main aim of Neftegaz was to build up a dialogue between supporting industries and the fuel and energy sector.

This dialogue will definitely enjoy a lot of participants. According to General Director of Expocentre ZAO Sergey Bednov, Neftegaz is expected to welcome 800 exhibitors from 30 countries including such major foreign companies as China Petroleum Technology, ABB, Siemens, Centrax, Compressor Control Corp., National Oil, etc. At the same time the majority of exhibitors will represent Russia. Gazprom Neft, Bashneft, Tatneft, Transneft, Zarubezhneft, Gazprom Automation, TMK, Rosatom, and others will be among 500 Russian participants.

Russian Deputy Minister of Energy Kirill Molodtsov also proposed to add a new showcase to Neftegaz presenting Russian startups focused on the industry development.

The 16th edition of the Neftegaz International Exhibition will run on 18-21 April 2016 at Expocentre Fairgrounds, Moscow, Russia. Neftegaz is organized by Expocentre ZAO and Messe Dussedorf GmbH.

print version