13 / 02 / 2014
A Neftegaz'2014 Exhibitor Announces the Commissioning of a New Industrial Membrane Plant for Helium Recovery from Natural Gas
The first industrial plant for helium recovery from natural gas designed by the Russian Research and Production Company Grasys has successfully completed the acceptance tests at the Kovykta gas condensate field. It is a joint project of OAO Gazprom and Grasys in helium recovery.
Dmitry Solodov, Deputy Director of the Department for Hydrocarbon Projects, Grasys, said: 'This stage of tests has shown that the plant fully meets technical specification, calculations and regulatory documents and proven its efficiency in recovering helium from helium content gas'.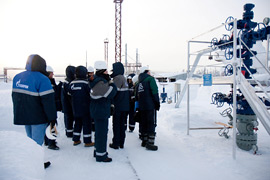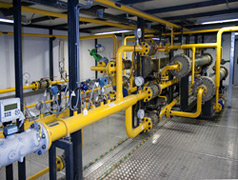 During the tests, the helium recovering membrane plant was visited by a commission consisting OAO Gazprom, OOO Gazprom Dobycha Irkutsk, OOO Gazprom Dobycha Noyabrsk, OOO Gazprom Razvitiye, Gazprom Central Design Bureau of Oil Equipment and OAO Gazprom VNIIGAZ officials. They ran functional tests of the plant in various modes.
The results of the tests will be used when designing industrial membrane plants at OAO Gazprom facilities and specifically at Chayandinsky oil and gas condensate field. The project is of strategic importance for the Russian gas market, since the launch of commercial helium recovery in Eastern Siberia can make Russia the global leader in helium production.

print version