13 / 01 / 2014
Aleksander Torshin becomes chairman of Neftegaz'2014 Organizing Committee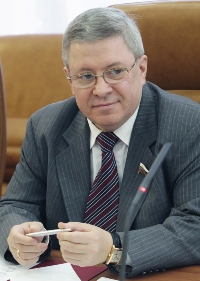 First Deputy Chairman of the Council of Federation of the Russian Federal Assembly Aleksander Torshin now chairs the Organizing Committee of the Neftegaz'2014 International Exhibition which will run at Expocentre Fairgrounds from May 26 through 29, 2014. The event is supported by the Russian Ministry of Energy.
It is a milestone event for Neftegaz as it once again confirms its high official standing and acknowledges its role as a leading trade show for this sector of the Russian economy. Neftegaz runs under the auspices of the Russian Chamber of Commerce and Industry and is awarded the labels of approval of UFI – the Global Association of the Exhibition Industry, and RUEF – the Russian Union of Exhibitions and Fairs.
Since 1978 Neftegaz has given European, Asian and American leaders of the oil and gas industry a unique opportunity to showcase their latest equipment and advanced developments to professionals from all over Russia and other countries.
The exhibition has proved to be a successful and effective event for the oil and gas and petrochemical industries where Russian and foreign professionals can learn about global trends and prospects of the industry development.
In his written address Aleksander Torshin highlights that Neftegaz is "today's largest event for this country's energy sector and a top ten petroleum show in the world. The organizer of Neftegaz is Expocentre, which is Russia's leading exhibition company. For many decades, it has managed trade shows to promote products of domestic and foreign manufacturers."
One of the key accompanying events of the exhibition is a round table held in the Council of Federation devoted to the strategic development and taxation of the oil and gas industry. Its participants include heads of federal legislative and executive authorities, regional authorities, industry associations, major companies, Russian and foreign experts.
Among 632 companies from 26 countries which have already announced their participation in Neftegaz'2014 are manufacturers and suppliers of gas and oil equipment, petroleum corporations and holdings, independent manufacturers, PSA operators, oilfield services companies, exploration companies, supply companies; companies working in drilling, construction, exploration and production of oil and gas, petrochemistry and lubricant production; oil and gas producing and processing companies; oil and gas wholesalers, filling stations; transportation and distribution companies.
For more information please call +7 (499) 795-37-61, +7 (499) 795-29-29 or email to neftegaz@expocentr.ru, or go to http://www.neftegaz-expo.ru/en/

print version