28 / 11 / 2017
Neftegaz recognized as the best brand of the year
27 November 2017, the 10th Annual Conference on Reputation Management and Advertising in the Oil and Gas Industry, held in the Analytical Center for the Government of the Russian Federation, released the results of polling conducted among companies of the oil and gas industry and allied sectors. In the Oil and Gas Exhibition nomination, Neftegaz was recognized as the best brand of 2017 and the most effective exhibition.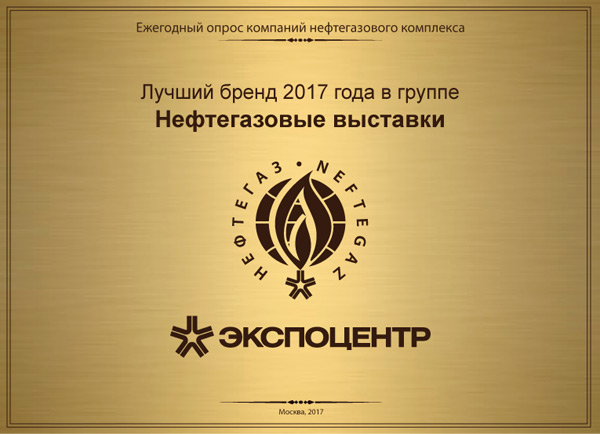 Neftegaz is organized by Expocentre AO jointly with Messe Duesseldorf GmbH (Germany) with the support of the Russian Ministry of Energy, the Russian Ministry of Industry and Trade, and under the auspices of the Russian Chamber of Commerce and Industry.
Neftegaz is Russia's leading trade show of oil and gas equipment and the latest technologies for oil and gas production and processing. It ranks in the world's top ten oil and gas shows. Since 2016 it has been co-located with the National Oil and Gas Forum. These two important events complement each other ensuring cooperation of authorities, industry associations, businessmen and researchers.
The next edition of Neftegaz and the National Oil and Gas Forum will run at Expocentre Fairgrounds on 16-19 April 2018.
See more at http://www.neftegaz-expo.ru/en
Press Service, Expocentre AO

print version