Russia's largest trade show of oil and gas field and processing equipment from all over the world
Neftegaz is
The leading trade show for the Russian oil and gas industry
Neftegaz is an important and integral part of the Russian oil and gas industry. It was launched in 1978 when the Soviet oil and gas sector was booming. This year the show celebrates its 30-year anniversary. In the new economic environment Neftegaz has retained its standing and is a business card of the current oil and gas industry of this country.
Undisputed advantages of Neftegaz are
government support
many years of experience
full market coverage including subsectors of oil and gas industry
rich program of supporting events
Neftegaz is Russia's largest trade show in the Oil and Gas category in the Exhibition Space, International Recognition and Market Coverage nominations (Source: the Russian National Exhibition Rating, see more at http://exporating.ru/en)
The world-class event ranks in the top ten of the world's petroleum shows and bears the logos of UFI, the Global Association of the Exhibition Industry, and RUEF, the Russian Union of Exhibitions and Fairs.
The most effective platform for business networking of Russian and foreign professionals of the oil and gas industry, launch of new products, learning about global trends and industry prospects.
Network with the industry's major purchasers and distributors!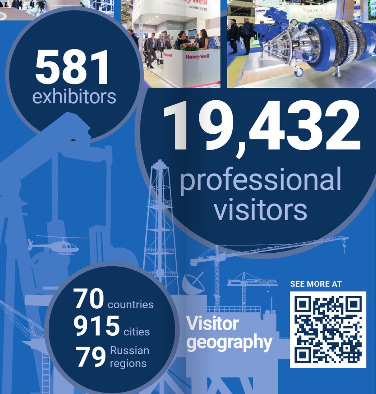 Network with major purchasers and distributors
Neftegaz is attended by 6 800 CEOs and top managers of oil and gas producing and processing companies, petroleum suppliers, and petrochemical companies.
Gain access to a unique audience
In 2017, 39% of the visitors came to Neftegaz for the first time. Take part in Neftegaz every year to win new potential clients!
1,360 people attend Expocentre's Neftegaz exclusively. You will not meet them at other shows.
Focus on the main promotion tool
11,076 visitors have direct authority or influence for purchasing equipment in their companies. Neftegaz has the highest concentration of industry professionals who make decisions about suppliers.
Save your time. Choose the best. Meet all your clients at Neftegaz, Expocentre Fairgrounds, Moscow!
Increase your client base
7,578 new visitors come to Neftegaz every year. Need new clients? Come to the main petroleum show in Russia.