19 / 01 / 2016
Russian Energy Minister Alexander Novak sends a welcome address to Neftegaz 2016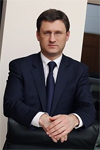 Russian Energy Minister Alexander Novak has sent a welcome address to the participants, visitors and organizers of Neftegaz 2016.

The minister mentioned that a number of challenges facing the oil and gas industry had put forward new issues for the industry.

According to Mr. Novak, today's priority is technologic development of the oil and gas industry, which is a decisive factor for the growth of the Russian economy and its competitiveness on the international markets.

"I believe that Neftegaz 2016 will show its participants the latest innovative solutions, and give them every opportunity to exchange experience and sign investment agreements," said the minister.

Neftegas 2016 will run at Moscow's Expocentre Fairgrounds on 18-21 April 2016. It is organized by Expocentre ZAO (Russia) and Messe Dusseldorf GmbH (Germany). This year the show will welcome 1,000 exhibitors from 30 countries, including 400 Russian companies. It also expects about 2,000 professional visitors. In 2016 Neftegaz will be co-located with the Russian National Oil and Gas Forum.

print version