26 / 06 / 2012
The 3rd International Conference on Innovative Oil and Gas Sector Development ENERCON'2012 is open
The 3rd International Conference on Innovative Oil and Gas Sector Development ENERCON'2012 was launched on June 25 within the Neftegaz'2012 Exhibition. The Conference is co-organized by the Chamber of Commerce and Industry of the Russian Federation and Expocentre.
ENERCON'2012 is held with the official support from the Russian Federation Federal Assembly State Duma Committee for Natural Resources, Nature Management and Ecology and the Committee for Energy, the Russian Federation Ministry of Natural Resources and Ecology, Ministry of Energy, Moscow City Government, the Union of Oil and Gas Manufacturers of Russia, the Russian Chemists Union.
Opening the Conference, Expocentre Deputy General Director Mikhail P. Tolkachev welcomed the ENERCON'2012 participants on behalf of the organizers. Mr.Tolkachev expressed his gratitude to the companies having endorsed the idea to run the Conference, to the Conference General sponsor Zarubezhneft, OAO and as well to sponsor companies ZVEZDA-ENERGETIKA, JSC; TESCO Corporation; IMS; Kompleksnye Stroitelnye Resheniya, ZAO; General Electric Intelligent Platforms; Technolink, ZAO.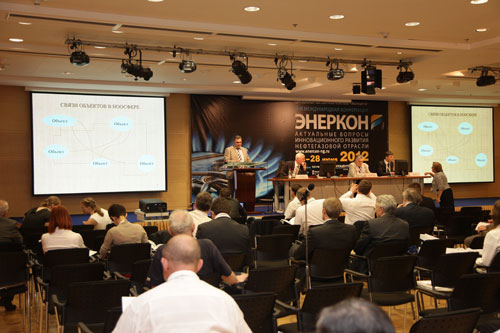 The ENERCON'2012 Conference comprises discussing key issues of the oil and gas sector. Representatives of the industry expert community, heads and experts of domestic and foreign companies participate in the discussion.
ENERCON'2012 started with plenary session Energy Security Doctrine: Federal and Regional Views.
Key Role of the Federal Government in Reserves Replacement Due to Innovative Development of Modern EOR Technologies.
On June 25 as well there was held a plenary session related to the current problems of developing hydrocarbon fields, including offshore ones, and oil and gas fields management issues.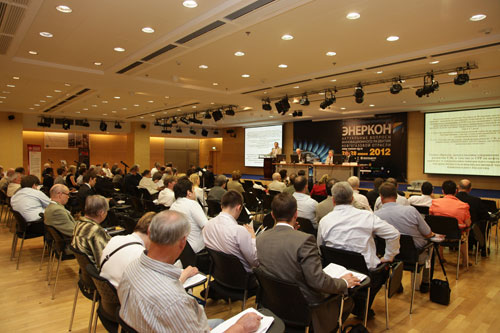 On June 26 the Conference will go on within the following business sections:
Technology Platforms for Fuels and Energy. Oil & Gas Sector Modernization via Innovation Technologies

Geology and Geophysics

Drilling, Completions and Workovers

Developing Regulations for Pressure Vessels

Advanced technology solutions for APG efficient usage and oil and gas recover methods enhancement
Experts are welcome to participate in the 3rd International Conference on Innovative Oil and Gas Sector Development ENERCON'2012!

print version